PRODUCT INFORMATION
FAQ
how do I find the right cable for it?
PRODUCT INFORMATION
Overview
This 
6ft/1.8m Anti-Tangle Silicone USB Type-C to USB Type-C cable is most of our backer's favorite gift. We offer it as a free bonus for all the backers who claimed a SlimQ GaN charger at our Indiegogo crowdfunding campaign. Now you can but it from here now. Ideal 
for your laptop or other mobile devices.

This cable is made from special silicone material which is durable, flexible, anti-tangle and even fire-resistance.
Specifications

​
| | |
| --- | --- |
| Brand Name: | SlimQ |
| Model No.: | C0071 |
| Cable Type: | USB-C to USB-C |
| Cable Output: | |
| Cable Length: | 6ft / 1.8m |
| Color: | Red/Orange/White/Space Gray |
| Sheath Material:  | Anti-Tangle Silicone Max. |
| | |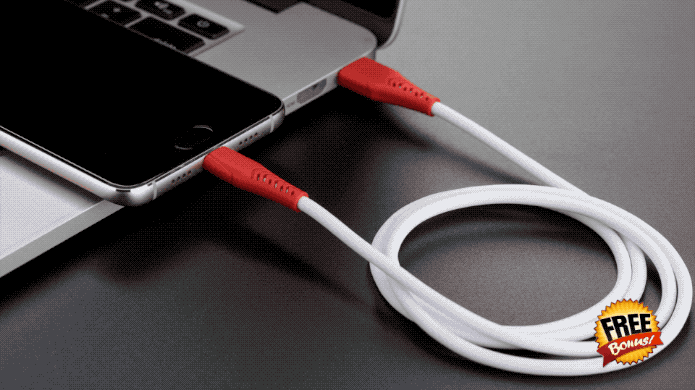 FAQ
I have an old laptop, can I use SlimQ for it?
The answer is mostly yes. Most laptops need a power source that is 65W or less, SlimQ 65W should work. If the laptop computer does not support type-c power supply, we do have a few types of cables build to convert type-c power to the proprietary powerhead. Check the list of our cables and see if you can find a match for your laptop. Please feel free to contact us with your laptop's model number so we can check it for you.
How does the 65W work when charging two devices simultaneously?
The 65W adapter/charger works in two modes. The type-C only mode will have 65W max output. If both ports are in use, the type-c port will output 45W max, and the type-A will output 18W max, both works at the same time with quick charging functions.
I have an Apple Macbook Pro 15", it uses 87W adapter, can I use SlimQ 65 for it?
The MBP 15" and upcoming 16" uses 87W and 95W power respectively. The SlimQ 65 provides 65W at maximum capacity. So using it for these two types of Macbook Pro will overload SlimQ 65 and cause damage to the adapter. Although some people find the SlimQ 65 can charge MBP 15" in reality, it is not recommended to use SlimQ 65 for these two types of Macbook Pro laptops.
how do I find the right cable for it?
How to choose the right cable for your laptop
1. For most of the modern models laptop which support USB Type-C power supply. Select the USB C2C cable.

2. For other laptops that use traditional (non Type-C) power adapters. Choose a proper converter cable. Make sure the connector shape & size is exactly same as your original charger's. And also the output voltage is in the same range of your original one's.
You can use following two methods to find out the dimension.