100W PD3.0 Charger
100W | 4 Ports | SlimQ®
Hurry! Only 336 Left in Stock!
PRODUCT INFORMATION
FAQs
Shipping & Returns
CUSTOMER REVIEWS
PRODUCT INFORMATION
World's Smallest 100W PD Charger
❖ Smaller than two packs of Doublemint (not included).
❖ 2 x USB-C ports and 2 x USB-A ports.
❖ Can charge up to 4 devices at the same time, from earbuds, phones, tablets to various laptop computers including the full Macbook Pro series.
❖ Fully support PD3.0 (Power Delivery), PPS, QC4+(QC2.0-QC4.0), and virtually all fast charging protocols such as Huawei FCP/SCP.
❖ Powered by the latest Gallium Nitride (GaN) Technology, the industry-leading Navitas GaN Fast NV6117 Power IC can operate at higher voltages and switching frequency which results in smaller and more efficient SlimQ® 100W chargers.
❖ SlimQ® 100W GaN Charger has embedded PFC function that is legally required in virtually all countries worldwide.
❖ Optional attach-on converters include UK/EU/AU/DE  type that works in 200+ countries.
❖ An optional extension cord that is specially designed to cover the distance from the wall socket to your desk.
Fast Charging All Major Phones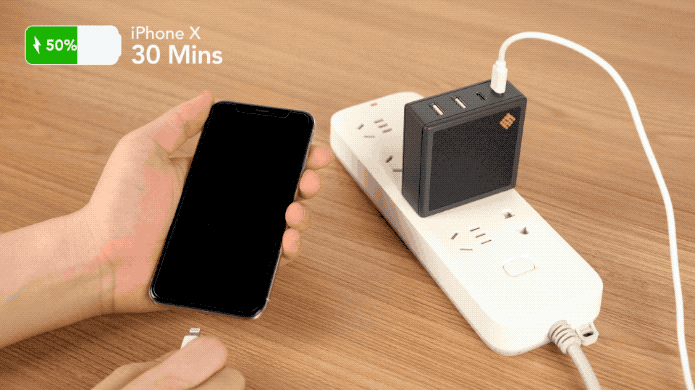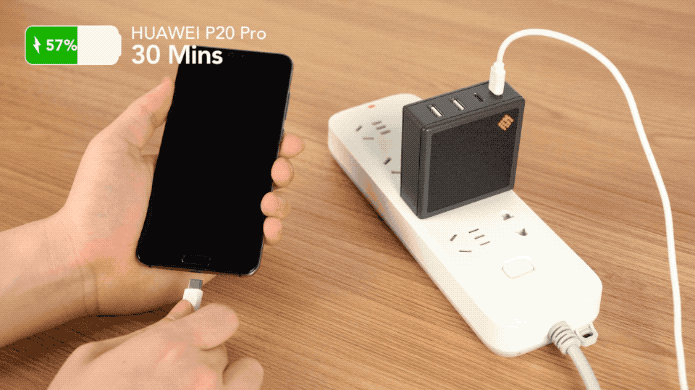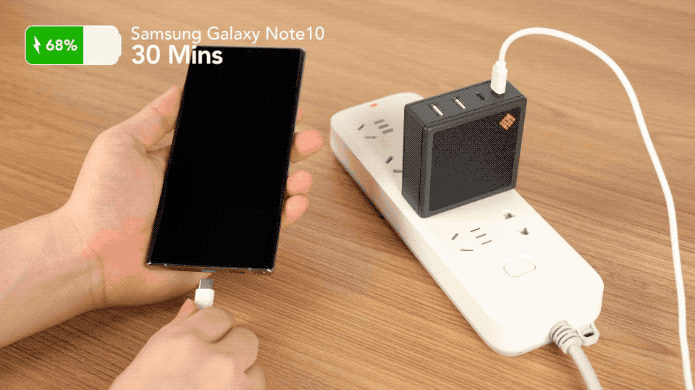 Charge Your Macbook Pro
SlimQ F100 works well with Macbook Pro, including the Macbook Pro 15" and 16" that consumes max power of 87W and 96W, respectively.

Foldable Prongs and International Converters
With the design of foldable prongs and clip-on international converters, the SlimQ F100 is quite flexible to be used virtually anywhere in the world. (The converters are optional and need to be purchased separately at a nominal fee).
| | | | | |
| --- | --- | --- | --- | --- |
| | | | |   |
| DE/KR 4.8mm | AU | EU 4.0mm | UK | |
Extension Cords
There are situations where you will need an extension cable to reach a wall power outlet. For such cases, the specially designed extension cords will become handy. The cable has the clip-on plug to the F100 to make it look neat and maintain a small footprint. 
| | | | | |
| --- | --- | --- | --- | --- |
| | | | |   |
| US | UK | EU(4.0mm) | DE/KR(4.8mm) | AU |
Specifications for this item
Brand Name

SlimQ-F100

GaN Chip

Navitas GaNFast 6117

Charging Protocols

Type-C:PD3.0, PPS, QC2.0-4.0, Apple,FCP,SCP,AFC,SFCP,PE,VOOC 1.1
USB:QC2.0/3.0,Apple,FCP,SCP,AFC,SFCP,PE

Input

AC 100V-240V 50-60Hz 2A

Output

Max 100W

Output

Type-C1/C2: 




5V/9V/12V/15V/20V⎓3A/20V⎓5A/5V⎓4.5A/4.5V⎓5A


USB-A1/A2: 5V⎓4.5A/4.5V⎓5A/9V⎓3A/12V⎓2.5A


Size

2.76x2.69x1.14inch(70x68.5x29mm)

Weight

7.23oz (205g)

Operating Temperature

32°F-104°F/0-40°C
FAQs
I have an old laptop, can I use SlimQ for it?
The answer is mostly yes. Most laptops need a power source that is 65W or less, SlimQ 65W should work. If the laptop computer does not support type-c power supply, we do have a few types of cables build to convert type-c power to the proprietary powerhead. Check the list of our cables and see if you can find a match for your laptop. Please feel free to contact us with your laptop's model number so we can check it for you.
How does the 65W work when charging two devices simultaneously?
The 65W adapter/charger works in two modes. The type-C only mode will have 65W max output. If both ports are in use, the type-c port will output 45W max, and the type-A will output 18W max, both works at the same time with quick charging functions.


I have an Apple Macbook Pro 15", it uses 87W adapter, can I use SlimQ 65 for it?
The MBP 15" and upcoming 16" uses 87W and 95W power respectively. The SlimQ 65 provides 65W at maximum capacity. So using it for these two types of Macbook Pro will overload SlimQ 65 and cause damage to the adapter. Although some people find the SlimQ 65 can charge MBP 15" in reality, it is not recommended to use SlimQ 65 for these two types of Macbook Pro laptops.
Shipping & Returns
FREE shipping for orders over 

$

39.95,

 Orders ship within 1-2 business days.